Budka, P. (2018). Indigenous articulations in the digital age: Reflections on historical developments, activist engagements and mundane practices. Paper at International Communication Association 2018 Pre-Conference "Articulating Voice. The Expressivity and Performativity of Media Practice", Prague, Czech Republic: Hilton, 24 May. Full Paper (PDF)
The relationship between indigenous people and digital media technologies is ambivalent and enthusiastic at the same time; reflecting individual experiences and expectations as well as collective sociocultural contexts and developments. Considering indigenous people's colonial history and colonization's continuing effects on indigenous communities, it is not surprising that many indigenous representatives are particularly concerned about issues of power, control, and ownership related to digital technologies and new ways of knowledge production, circulation, and representation (e.g., Ginsburg, 2008).
There is a strong sense of sociopolitical activism and agency in indigenous people's collective engagements with digital media technologies which are closely connected to the (re)construction and mediation of cultural identity, cultural articulation, social intervention, and self-determination. At the same time, indigenous people's digital practices are related to mundane necessities of everyday communication, social networking, family bonding, or self-expression. To understand indigenous articulations in the digital age, the collective and the individual dimension need to be considered.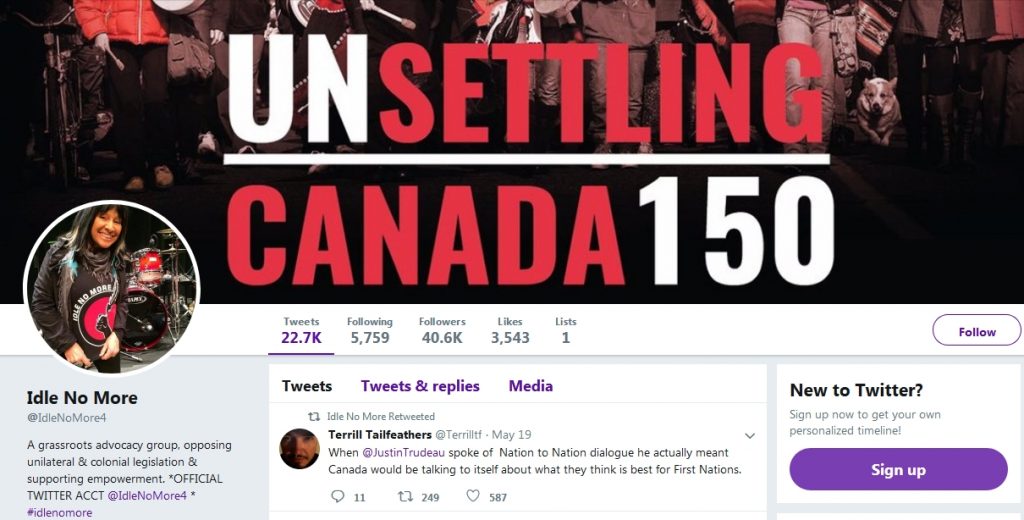 Screenshot: Idle No More Twitter Account, 2018
Continue reading Paper: Indigenous articulations in the digital age