Budka, P. (2017). Internet for remote First Nation communities in Northwestern Ontario. Paper at "3rd CoRe Workshop – Mobility and Remoteness: What is the Connection?", Vienna, Austria: University of Vienna, 26-27 May. Full Paper (PDF)
Introduction
In 1994, the Keewaytinook Okimakanak Kuhkenah Network (KO-KNET) began to develop and provide internet infrastructures and services for the remote First Nation communities in Northwestern Ontario, Canada. Public and private institutions have been reluctant to invest in this "high cost serving area" with no year-round road access, where residents have to travel by plane for medical treatment or to meet with relatives and where people have to move to southern towns to continue their high school education or to find work. In close cooperation with the region's First Nation communities, KO-KNET has built local broadband internet infrastructures to provide services such as cell phone communication, e-health, online learning, videoconferencing, and personal website hosting. Overall aim of this initiative has been to give people a choice to stay in their remote home communities.
For my first field trip to Northwestern Ontario in 2006, I decided not to fly but to take the train from Toronto to Sioux Lookout, Northwestern Ontario's transportation hub. This ride with "The Canadian", which connects Toronto and Vancouver, took about 26 hours and demonstrated very vividly the vastness of Ontario. I could not believe that I had spent more than an entire day on a train without even leaving the province. Finally, I arrived at Sioux Lookout, where I would be working with KO-KNET, one of the world's leading indigenous internet organizations.
After my first day at the office, KO-KNET's coordinator wanted to show me something. We jumped in his car and drove to the outskirts of the town where he stopped in front of a big satellite dish. Only through this dish, he explained, the remote First Nation communities in the North can be connected to the internet. I was pretty impressed, but had no idea how this should really work.
While the satellite dish was physically visible to me, the underlying infrastructure of interconnected digital information and communication systems was not. In the weeks and months to follow, I learned about the technical aspects of internet networks and broadband connectivity, about hubs, switches, and cables, about towers, points of presence, and loops. And I found out that internet via satellite might look impressive, but is actually the last resort and a very expensive way to establish and maintain internet connectivity for remote and isolated communities.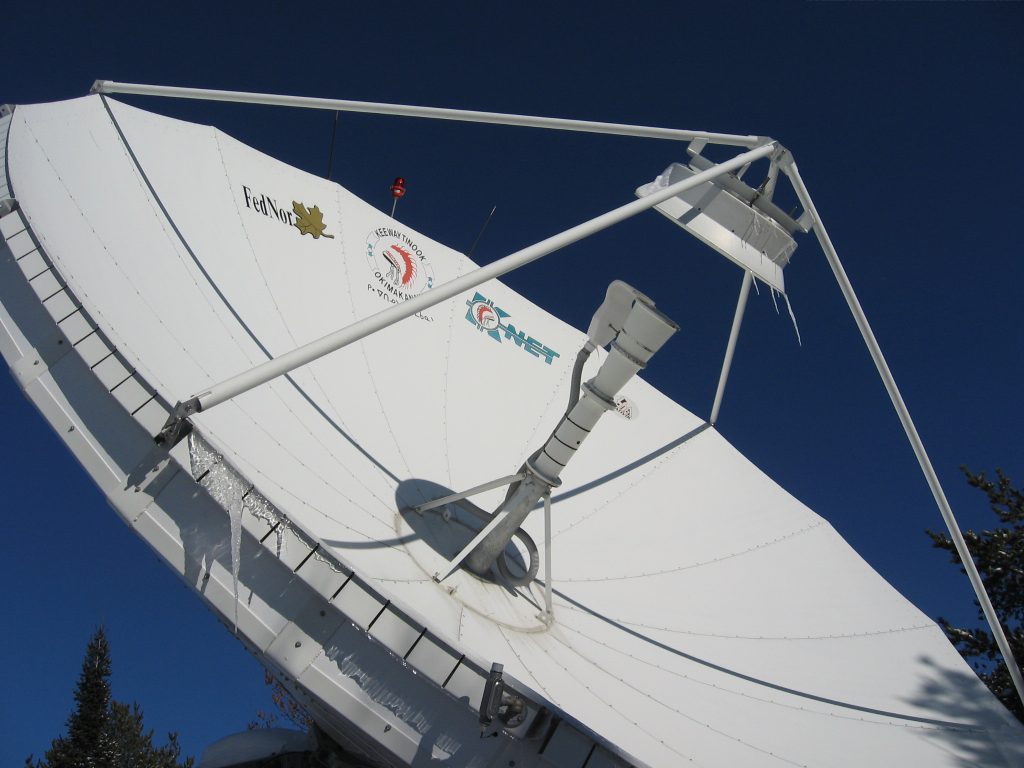 Continue reading Paper: Internet for remote First Nation communities in Northwestern Ontario